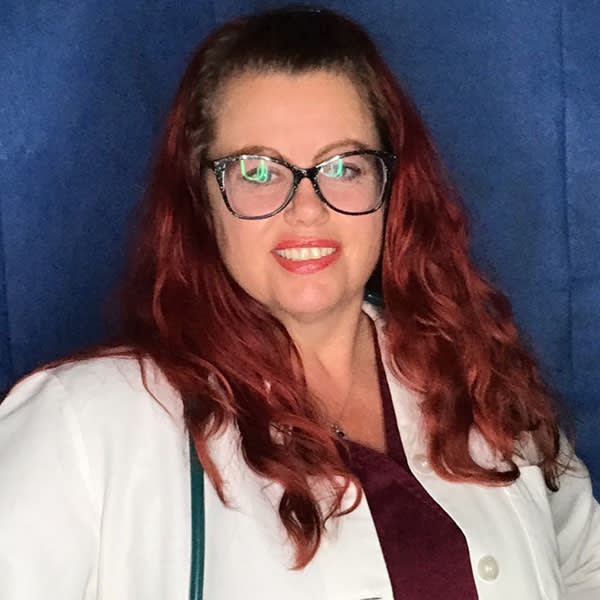 Dr. Juliana Wilcox
A Cali girl at heart, Juliana actually grew up mostly on the east coast and has lived all over the United States. She was raised with horses, a plethora of cats and dogs, hamsters and ferrets and any wild animal that would let her "rescue" it. She has continued that trend today with a household of rescues: her cats, an old married couple named Vienna and Houston and her two dogs Calliope and Mini Pearl (you can meet them at the clinic, they are always with her!).
The veterinary field was a second career for Dr. Wilcox, as she started out in emergency medical services as an EMT and firefighter in New Mexico. She decided to marry her love of medicine with her love of animals and went to veterinary school with a combined MBA/DVM degree at Colorado State University. She studied all species but came to focus primarily on small animal preventative medicine and pain management. Dealing with animal pain is at the heart of everything the team at Kearny Mesa Veterinary Center does - from anesthesia to accidents, the pain of skin and ear infections, dental disease and the inevitable wear and tear on joints as animals age. Geriatrics hold a special place in her heart - she loves the silver faces!
Dr. Wilcox is a certified Veterinary Medical Acupuncturist and has studied animal rehab (physical therapy) as these modalities are excellent for pain and stress. She is also well-versed in cutting-edge, herbal and integrative medicines. She believes that stress makes everything worse and so a Fear Free, compassionate approach to vet visits is a priority. She is Fear Free Certified. 
Outside of work Dr. Wilcox lives a simple life. She is a yogi, loves reading and binging Netflix. She likes to visit her family and spend time outdoors with her furkids--especially at the beach enjoying that California sun.